Super SpongeBob Kart is a crossover ROM hack, created by Kempy, of Super Mario Kart which completely replaces the base game of SMK and skins it as a SpongeBob kart racing game.
Created in 1992 for the SNES by Nintendo, Super Mario Kart is a kart racing game and the first in a long line of Mario Kart games to come following Super Mario Kart's groundbreaking success. It is credited for creating the "kart racing" subgenre spawning an influx of similar games such as Sega's Sonic Drift, Ubisoft's Street Racer, and Atari's Atari Karts, to name a few. Super Mario Kart changed the rules of driving games and provided the world with one of the most addictive multiplayer experiences ever.
New Game Features
This game has the following new features
Everything Thematically Swapped
All New Character
All New Tracks
Game Description
If you want to see a video of Super Super SpongeBob Kart in action, check out the video below.
Super SpongeBob Kart is an artfully crafted hack for lovers of both SMK and SpongeBob bound to bring fans of both the franchises together for a silly and enjoyable time.
It is always nice to be able to play around a few different maps as, as great as SMK is and continues to be enjoyable, it can start to show its age with the limited number of maps and the limitations of the game that did not allow for the most variety in terms of thrills on every map.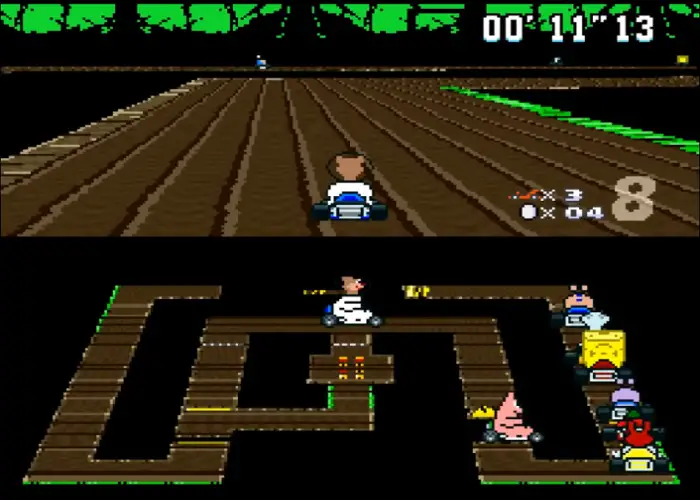 Some of the best parts of this hack comes with the theme of SpongeBob in general when looking at sprites throwing Conch Shells at one another and jelly fish springing up from the ground to block your back. This hack shows a great amount of effort in reskinning the game and could have only been better if all the music had been changed as well.
Title Screen
The title screen of this hack has been significantly altered from the original game's title screen, as shown below.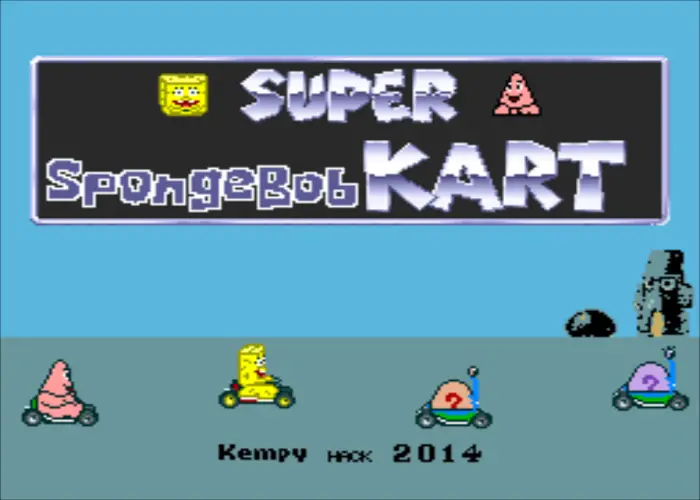 Graphics
The entire game has been reworked graphically to include thematically accurate tiles, characters, and items. Everything has been faithfully recreated and this almost looks like it could be an officially released crossover title for Super Mario Kart and SpongeBob.
Gameplay
Super SpongeBob Kart appears to play the same as SMK. It is not shown on the character selection screen, but it feels like the different players play the same as their counterparts as far as placement goes (Mr. Krabs being Donkey Kong Jr., etc.). The levels all feel well designed and just as balanced and somewhat dastardly as the original levels.
Sound
All the sound effects in the game remain as they were in the original but this hack does include some changes to the music for a few of the tracks and on the track completion screen.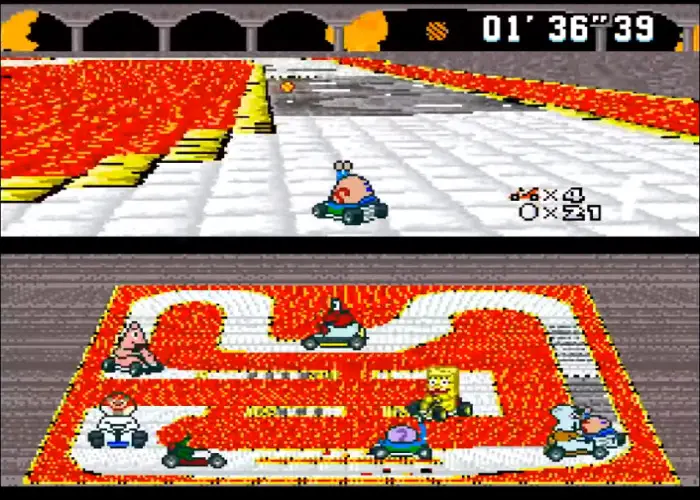 Download
If you wish to play this game you can download the Super SpongeBob Kart Rom by clicking here.
Conclusion
So is this game worth a try? Super SpongeBob Kart adds some visual variety to SMK and strangely brings together any fans of either SMK or SpongeBob with some charming graphics and reskinning of characters and items to match the comedic underwater franchise. While you will not find anything spectacular in the realm of gameplay changes or unique features, this is a solid graphical hack that provides a new aesthetic for SMK.
If you have played this game please let us know what you thought of the game by leaving us a comment.