Contra: Hard Corps Enhancement Hack is an improvement hack for Contra aimed at replacing text and providing many quality of life features for the players
Acclaimed as 'the ultimate side-scroller' and 'a beast of a game', Contra: Hard Corps sports blazing fast action and nonstop bullet-hell combined with eye catching graphics, explosive sound, and an unforgettable soundtrack common for the gems of its era.
New Game Features
This game has the following new features
Skip To Menu With Start
Rewording In Options
Max Life Increased (5)
Skip Mission Brief With Start And Speed Up Text While Holding B & C
Minor Changes And Optimization Of Script
Built In Soft Reset
Added an alternate font (activated with a code)
Game Description
Contra: Hard Corps Enhancement Hack is aimed primarily at quality of life features for the players. This hack does not alter much of the core gameplay and still provides the classic gameplay experience of the original North American release of the game.
Many of the menus and dialogue moments of the game have been given a way to either skip, quick exit, or speed up; namely, the mission brief screen can be greatly sped up.
Instead of providing a health bar like many other hacks, this only opts to only increase the number of lives, maintaining the titles classic difficulty.
A little feature for those interested in perfecting their run, the game can be soft reset by pressing A, B, and C simultaneously. It is worth noting, however, that this is slightly bugged for some emulators so it is worth testing out if it's important to you.
Title Screen
The original Contra: Hard Corps title screen remains intact and unaltered in this hack.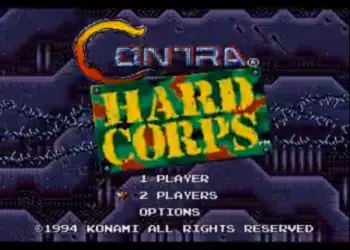 Graphics
There are a number of minor changes made to the text in this game. The developers originally started off this hack by manipulating the game's text printing and eventually went on to completely edit and proofread the games text.
Players can also change the game's font by holding down A and C. This will be implemented the next time the game shows dialogue or goes to the mission briefing screen.
Gameplay
Contra: Hard Corps Enhancement Hack puts a number of tools in the hands of the player to blaze through menus, mission briefings, and dialogue for a much faster gaming experience. The most glaring of these hacks is the ability to press Start at any point to skip mission briefings as well as holding down B and C to blaze through dialogue so that you can get back into the action.
Sound
All sounds from the original release of the game are present and unaltered in this hack. There is an added sound effect to let the player know when they have held A and C long enough to alter the font.
Download
If you wish to play this game you can download the Contra: Hard Corps Enhancement Hack Rom from here
Conclusion
So is this game worth a try? The Contra: Hard Corps Enhancement Hack is a minor hack that avoids altering the core gameplay while providing the player a handful of features to enhance their experience with the game. Being able to blaze through menus and dialogue is an underappreciated boon when sitting down to play through the game numerous times especially considering its difficulty and how often one may have to restart after getting blasted away time and time again. A must for anyone who is not interested in other hacks (or versions) that provide a more "fair" challenge and love the Western release's brutality.
If you have played this game please let us know what you thought of the game by rating it below and also leave us a comment.