Based on a video game meme, Waluigi's Taco Stand is a ROM hack made my Kaze Emanuar which is more like a standalone game simply using Super Mario 64 as a base.
Super Mario 64 was a major player in the anticipation, and later on the popularity, of the Nintendo 64 system and the game has ranked amongst the greatest games of all time since its release in 1996. It revolutionized the 3-D platforming experience and has gone on to influence countless other titles and to this day it is still referenced as a timeless classic that developers study in order to produce another game of as influential and experience defining as Super Mario 64.
New Game Features
This game has the following new features
All New Adventure
Redesigned Gameplay Goals
Waluigi!
Game Description
If you want to see a video of Waluigi's Taco Stand in action, check out the video below.
You could say this is a joke taken "too far." Supposedly, Waluigi's Taco Stand originated from a GameFAQs message board in 2002 where a user jested about the idea of Waluigi having his own game. In 2018, Kaze Emanuar released a mock "lost" commercial for the game and went on to post an unboxing video of the advertised game complete with what appeared to be authentic N64 merchandising. You can catch the video here.
Waluigi's own adventure starts with him acquiring debt due to a gambling addiction. He blew all of his money (and Wario's money) on slot machines and now is in desperate need of cash to pay rent. What better way to earn some cash then to run a taco stand until you're debt free?
This hack is worth a few chuckles, rather simple to pick up and put down and works as something to burn some time on if you are looking for something extremely casual.
Title Screen
This hack does not necessarily have a title screen and uses the game's save select screen as its default screen on start up. It has been slightly altered from the base game's save screen.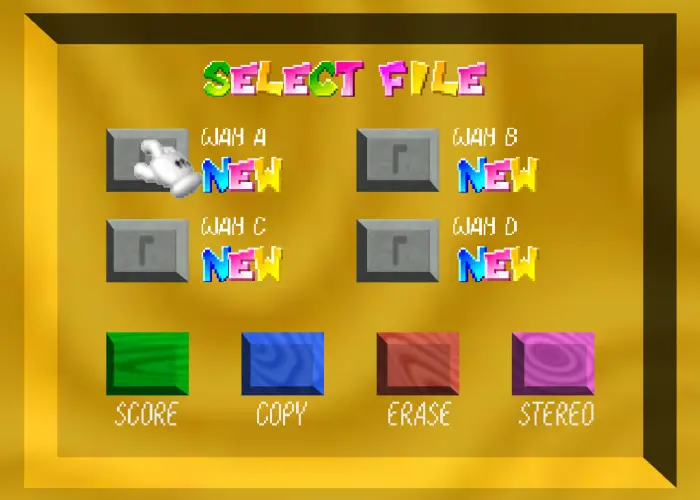 Graphics
A handful of graphical changes had to be made to the game including items and character models such as Luigi. Other than that, the game uses the same tilesets and many other assets present in the base game.
Gameplay
Waluigi's Taco Stand is a fairly simple hack mostly aimed at being a joke. The gameplay revolved around collecting items from various levels according to what the customers of your taco stand request. Enemies and challenges are limited and there is not much variety amongst the four levels that you have to explore. The hack is not designed to be challenging, further reinforced by the fact that it is impossible to die.
Sound
The hack uses music from both the original game and from several other Mario games but does not offer any new or custom music.
Download
If you wish to play this game you can download the Waluigi's Taco Stand Rom by clicking here.
Additional Notes
I had some issued with the Project 64 Emulator for this one. After playing around with a few settings, I ended up changing emulators and using BizHawk instead.
Conclusion
So is this game worth a try? Waluigi's Taco Stand is a meme that has evolved to the point of being something of a cult classic and this hack is the pinnacle of its evolution. This hack is short and sweet, meant for a few chuckles and to be passed around as the crown of the memes history. I would say that the work put into this one by the hack developer was worth every second.
If you have played this game please let us know what you thought of the game by leaving us a comment.